Europos Parkas presents a sculpture by the Argentinean artist Matias Di Carlo
2023 08 22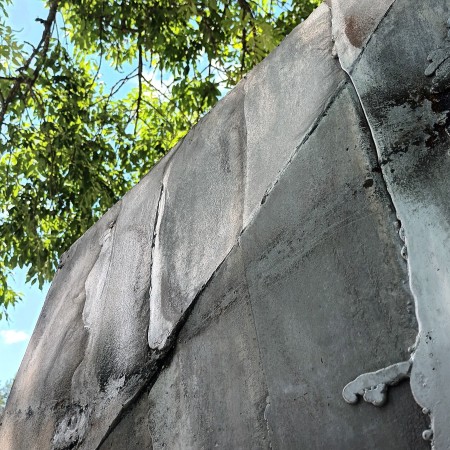 At the end of the summer, Europos Parkas near Vilnius will unveil a new sculpture. A piece of another culture, an artwork of another unique artistic and conceptual expression will become a part of the exposition of the open-air museum. The subject matter of this artwork is broad and deep: purified philosophy, visualisation of mathematics in space and contemplation of nature.
Origins
Matias Di Carlo was born in 1978 in Buenos Aires, Argentina. In 2002–2003, the artist moved to Spain with his wife Andrea, where he still lives and works today.
The artist's Italian family tradition is blacksmithing. Matias Di Carlo is the fourth generation to master the element of metal and fire. He spent a lot of time honing his skills in the family workshop in Argentina, working in Buenos Aires and Patagonia on various architectural and landscape projects.
Evolution
From blacksmithing, Matias Di Carlo has moved on to contemporary sculpture, taking the old craft and its deep traditions to a level of original artistic expression. But this transition was a long process. Back home in South America, Matias Di Carlo spent a lot of time climbing mountains, sometimes going into the wilderness for months at a time to meditate. After moving to Europe, Matias Di Carlo studied metalworking techniques in Italy and Spain, working with his wife to find new solutions and concepts.
Over time, the artist's quest for holistic expression, for developing representations of his own body and thought processes through sculptural 'embodiment' became clear. He is still driven by this quest, and it still helps him keep the balance. Always in motion, creation is a process.
The last few years have been particularly successful for Matias Di Carlo. With his sculpture 'Horizon', he became the lead artist of the Silicon Sculpture Valley 2022 project. His exhibitions and openings have taken place across the globe, and in 2022 and 2023 he took part in art fairs in New York, Basel, Istanbul, and other cities.
Fold
The sculpture 'Gravity Matters' by Matias Di Carlo is one of the Fold series, created by artist.
Di Carlo's sculptural language derives from two main sources: the writings of the French philosopher Deleuze on the fold and the complexity of nature and the universe. The artist works with metal and bends it in the same way that paper is folded in space, creating a kind of gigantic origami. There is no inside or outside of the sculpture. The tension between the density of matter and empty space is transformed into a vibration, one dimension after another coming to the surface. The Fold is interpreted as a force that translates materiality into infinity. The metamorphosis uses energy and is itself a source of energy.
The artist has transformed his knowledge of blacksmithing into a distinctive sculptural language, where the play between emptiness and density, light and shadow, is of exceptional aesthetic importance. The sculptor's works are minimalist, yet characterised by a playful formal language that allows the viewer to look beyond the strict materials used in the works.
"A Fold is space, movement and time," says Matias Di Carlo.
The artist is represented and presented by Wadström Tönnheim Gallery in Marbella, Spain.    
Critique
Art critic and curator Bjorn Stern says of Matias Di Carlo's work:
"Matias Di Carlo's works can best be described as playful minimalism. Having worked through a highly disciplined rigour of maquette making, sketching and understanding the complexities of form and their interaction in relation to the body, he has provoked a visual form of mathematics and has managed to show how it occupies volume in three dimensional space. While much iron and steel as a material appear at first impenetrable and inert, Di Carlo has mastered, through long periods of alchemic experimentation, to introduce color and warmth to the otherwise stark and uninviting surfaces. The patina that Di Carlo applies to his Corten steel works are as much a reflection of the rustic colors of the landscape of southern Spain as it is a conversation with the material itself, allowing it to speak freely and in constant change.
As Matias Di Carlo has set the course to emerge as a contemporary sculptor, he has been able to free himself from the constraints of utility as well as academia to arrive at an intuitive and direct methodology in the creation of emotion through solid form. Through long periods of meditation in and with nature, many times alone in the wilderness for months at a time, Di Carlo emerges with a holistic catalogue of thought, which is not only apparent but also physically present in the rigorous forms of his sculptures. As with all things in nature, there are hidden languages and truths. The universe itself begins with a simple instruction and constantly strives towards greater forms of complexity. Looking closely at the sculptures of Matias Di Carlo, one has a sense that many of the shapes and forms have already understood that the whole is always made up of the sum of its parts".
"A host of contemporary art lovers have contributed that great artwork would complement Europos Parkas exhibition." – says artist Gintaras Karosas, the creator of  Europos Parkas museum. – "The main benefactor of the sculpture is Tor Anders Petteroe. Wadström Tönnheim Gallery and its director Mattias Tönnheim, who represent the artist, also contributed to the project. The idea was initiated by Brigita Krasauskaitė, an artist and art expert working and creating in New York and other countries around the world." 
Wadström Tönnheim Gallery's mission is to examine the idea of the painterly, be it also through related media such as photography, sculpture, installations, video, and drawing, in order to understand and to promote the direction of painting and its relevance to contemporary visual culture. The Gallery is owned and operated by Mattias Tönnheim.
Brigita Krasauskaite is a multi-disciplinary artist, curator, art business advisor, and certified appraiser. She created Foreign Territory to bring the work of young, innovative artists to greater public awareness, and to reinvigorate the work of established artists with a fresh curatorial eye in new and occupied environments and spaces. Foreign Territory supports the work of contemporary artists, art foundations, and artists' estates seeking to advance their vision and financial success in the international art market, collections, public spaces and museums.
Europos Parkas is an open-air museum of modern and contemporary art from around the world. The universal language of art is used to give meaning to the centre of Europe. The 55-hectare art and nature ensemble in Europos Parkas houses nearly 150 works of landscape art and sculptures, including the works by the most prominent authors of modern and contemporary art.
Matias Di Carlo's artwork presentation to public is part of Europos Parkas project "The development of professional art and cultural field in Europos Parkas. Artists for a sustainable world". The project is partly financed by the Lithuanian Council for Culture.
The opening event for Matias Di Carlo's Gravity Matters will take place in Europos Parkas on 27 August 2023, at 3 pm. 
For more information:  hq@europosparkas.lt, +370 5 2377 077, +370 698 30925.