Electronic music set at the place where nature and art merge - Europos Parkas
2022 05 27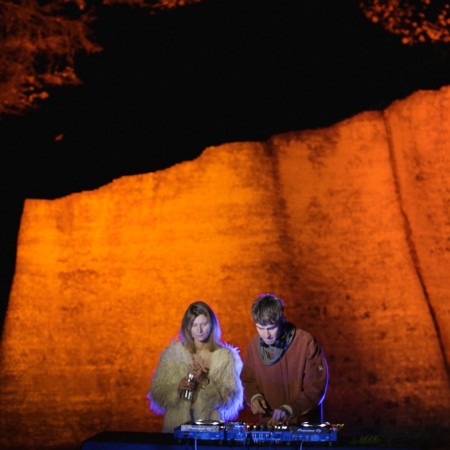 Electronic music project "Antidote" together with a Lithuanian DJ duo Sibilë and Mauras announces the release of a misty performance at the Museum of the Center of Europe - Europos Parkas.
Filmed at Europos Parkas, a carefully selected location to highlight the core idea of the piece: the inevitable interconnectedness of the world. Surrounded by a forest, abstract human sculptures, and lights, Sibilë and Mauras tell a story of a mystical balance of natural and human-made.
"Felt a rush of inspiration after being told we were going to shoot in such a special place, where nature & art meet. So the only thing left was to select music that felt right. It was a really cold yet beautiful night." - says Mauras.
The video performance is stacked with sculptures from the open-air art exposition of Europos Parkas, which consists of more than a hundred pieces of sculptures by artists from all over the world. 
"An additional theme creates space for a new interpretation. Electronic music, night time filming and impressive light gives a new angle of view for our sculptures" – says creator of Europos Parkas museum Gintaras Karosas.
Pieces of the art in the video are representations of a human. It is done, to guide the viewer to question the human identity and role in today's world. Especially, when the world is a little crazier, darker, and uncertain when compared to the last thirty years.
The art elements used in the video are works of Gintaras Karosas (Lithuania), Jerzy Jotka Kędziora (Poland), Evaldas Pauza (Lithuania), Javier Cruz (Mexico), Bronius Vyšniauskas (Lithuania), El Sayed Abdou Selim (Egypt), Adomas Jacovskis (Lithuania), Donatas Jankauskas (Lithuania), Vytautas Kašuba (USA), Lionginas Virbickas (Lithuania).
"Electronic music has an image of party music in the majority of public eyes, but we disagree. Electronic music is a modern form of art, which can and should interact with relevant actualities of the world." - says "Antidote" showrunner Edmundas Puckorius. - The video is an abstract open invitation to make a personal observation, interpretation, and judgment of the piece. I hope people will find their own meaning in it." 
To experience the creative performance look for a full video on the "Antidote Community" Youtube channel.