The open-air museum exhibits over 100 works created by artists from Armenia, Byelorussia, Canada, Croatia, Cyprus, Egypt, France, Finland, Germany, Great Britain, Greece, Hungary, Ireland, Japan, Lithuania, Mexico, Moldova, the Netherlands, Peru, Russia, the USA, Venezuela and other countries.


The collection includes large scale works by famous contemporary artists such as Magdalena Abakanowicz, Sol LeWitt and Dennis Oppenheim among others.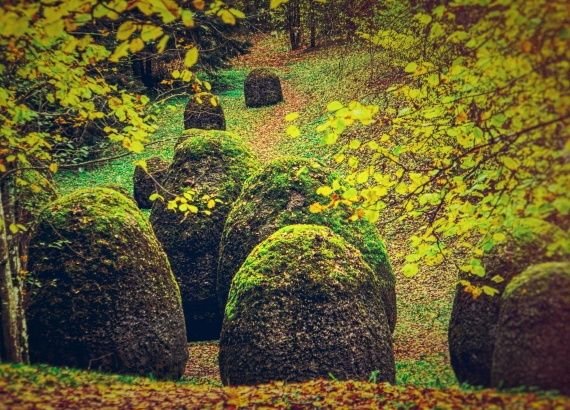 An important element of both giant sculptures by Oppenheim at Europos Parkas, Chair/Pool (built in 1996) and Drinking Structure with Exposed Kidney Pool (built in 1998), is water.


Abakanowicz's Space of Unknown Growth spans an area of over 2,012 square metres. The range of massive boulders and twenty-two variously sized forms made of concrete create an impressive landscape, a space for experience.


LeWitt's symmetrical geometrical structure Double Negative Pyramid composed of concrete blocks is continued by its reflection on the water.


Gintaras Karosas' landscape project, titled Monument of the Centre of Europe, contains indications of all the capitals of Europe, information on the distances to them as measured from the centre of Europe and the direction in which each of them is situated.


Gintaras Karosas' works For Your Convenience, The Place, Foundations/Window, The Sign, The Wall, The Culture and others demonstrate unexpected and highly impressive harmony of art with the landscape.


Jon Barlow Hudson's unique composition Cloud Hands consists of four massive granite blocks, the construction of which was precisely calculated, making the sculpture appear as if it could fly.


Creating harmonious interaction between nature, man and object of art, YONI: Homage to Marija Gimbutas is especially subtle Tei Kobayashi's work.